I'm not going to lie: I like Chili's – especially when the other option is Applebee's – but I hardly ever go there.  I am travelling a ton for work lately, and I just happened to find myself somewhere in Oklahoma the last two days, so as you can guess, my eatery options were somewhat limited.  Actually there were a ton of options available, but if you're looking to stay healthy and not eat garbage than you don't have many options.  Well, there happened to be a Chili's restaurant right next to my hotel, so I decided to order online to get pick-up.  I haven't seen the menu in months, so I did a little perusing and came across something new that honestly surprised me: the Margarita Chicken Fresh Mex Bowl.  At a little under $10 bucks for the entree, I decided to give it a whirl – in the end, let's just say the next time I am trying to out to eat back home, Chili's will actually come to mind as a legitimate option.
Meet Chili's Margarita Fresh Mex Bowl
Now you've obviously glanced up, and maybe even salivated over the food porn photo above, but remember that I got the take-out version – that means I didn't get the fancy white bowl … or the cool wooden table with an open avocado and a margarita on the rocks. What I did get however is everything inside the bowl, like the margarita grilled chicken, pico, salsa, sliced avocado and black beans, which somehow forms a magical flavor creation that I have already told myself I'm going to try and replicate at home in my kitchen (key word = try).  If you're interested in seeing the real life photo of my take-out reality, simply look below – the presentation is somewhat depressing as expected, but trust me when I say that none of the taste was missing. (If you noticed the unusually large bag of chips and two cases of salsa, that is apparently the portion size you get when you order the $3 chips and salsa side in Oklahoma; translation = extra awesome)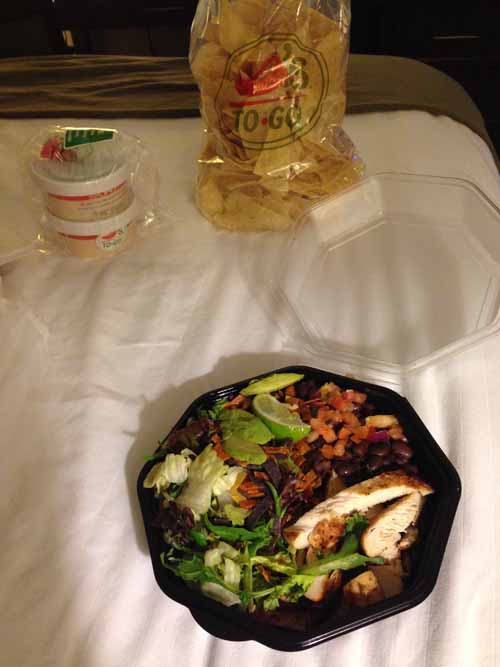 Yes, I ate on the damn bed, and yes, I spilled salsa on it.  In my opinion if the hotel is pissed, they shouldn't have setup shop next to a place that serves people 3 gallons of delicious (well, average really) salsa for $3 dollars – just sayin.
On to the Fresh Mex Nutrition
Damn you, sodium, seriously.  While I knew that the sodium content would still be outrageous in this deceptively good bowl of Fresh Mex goodness, I ordered it anyway and am still smiling.  At 3,810 mg of sodium in one chicken bowl, I am already 1500 mg OVER my daily recommended intake amount, which is pretty absurd for a supposed bowl of chicken and vegetables.  Ultimately it comes down to the likely additives in the meat, as well as the sauce, but this is something that you could easily prepare at home with about 100% less salt, and still maintain a tremendous amount of flavor.
The bottom line is this: this bowl of magic delivers awesome flavor, and compared to your other typical Chili's options, it is the definition of healthy eating.  While I don't recommend eating it regularly due to the high levels of sodium, it is a much better choice than a burger, bowl of creamy pasta, etc – just don't go overboard.
Have you tried Chili's Margarita Chicken Fresh Mex Bowl yet?  What did you think? Drop us a line in the comments, and as always, more great food reviews coming soon!