Most years, the road to the NBA Finals is pretty tame. Even when Michael Jordan graced the friendly skies of the United Center, he didn't have too much trouble making it to the finals. And then came this year. A brink of potential madness that ebbed and overturned not a briny washup of minor timing and opportunity, but rather two pearls: the Duncan-led San Antonio Spurs and His Majesty King James' Miami Heat.
Tim Duncan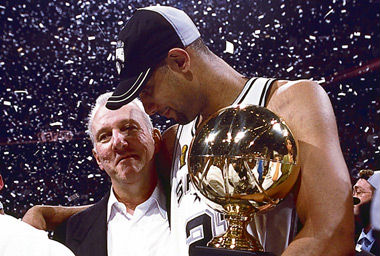 Here are the stories. For San Antonio, Tim Duncan made First Team All-NBA at 37. That's like winning People's Most Beautiful List at 63. He plays for what a large population of NBA fans believe to be the most boring NBA team (possible of all time). He's only played for one coach, Gregg Popovich, who if he was in Hollywood and not San Antonio, could possibly be the only actor who could believably kill Stellan Skarsgard.
Regardless of his NBA Career, even people who don't like Duncan as an opponent fully respect that he is an amazing human being. He is cultured, refined, and an ambassador for the league. Plus, his mother's dying wish (she passed away when he was 13) was to make sure he finished college with a degree. He passed up millions of dollars multiple years in a row to make sure he graduated from Wake Forest University with his degree.
Lebron James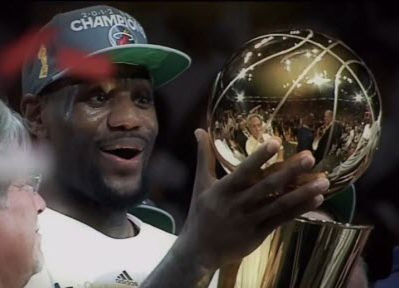 Now Lebron James and Tim Duncan have two entirely different career paths. Duncan vowed to finish college – James vowed to jump over and give college a facial while twisting and jerking on the rim afterwards. James came out of high school heralded as the best player in the country. Country. He actually went from having a locker his last day of high school to damn near having his own GDP the next day. Think of your high school nickname. I don't even think I had one. His was "King" James Lebron. King James. He shares a name with a bible.
I was a little young at the time of Michael Jordan in Chicago. I watched him play through my elementary and junior high years, and I knew he was the best in the game, but at that age, I couldn't really grasp the cultural significance of someone that good in any field. Then James was drafted by Cleveland with the first overall pick in the 2003 draft. Being in college, I understood now. He's the man. In fact, he's the King.
Finals Matchup
James played seven years in Cleveland – without a supporting cast – and he still managed to make it to the finals in 2007 – where he met the Duncan-led Spurs and was annihilated, being swept in four games. Now, James is on the Heat with an actual supporting cast: Dwayne Wade and Chris Bosh. Duncan still has his original entourage with a few new editions, most notably Kawhi Leonard, slated to guard King James.
This series has all the makeup for a six or seven game series. Both teams have experienced huge success on the road during the post season, so home court advantage will still mean something, but it won't be an automatic victory. Duncan is the epitome of fundamental basketball and team play. James is an athletic apogee with finesse.
Game one starts Thursday night on ABC at 8pm Central. Watch history being made.