My post-active Marine Corps career has brought me to the oil and gas industry down south, and on the road quite a bit.  Over the last six weeks in my F-150, I've driven back and forth from Houston to Oklahoma City, OK, Arcadia, LA (yeah, I had to Google Map that one too), and Longview, TX.  Throw in all sorts of random well site locations out in the middle of nowhere, USA, and my chariot is already calling for another oil change.  When I loaded my iPhone a couple months ago, I figured I had enough music to keep me going for a year on the road; it turns out I was wrong.  It only lasted about 4 hours on shuffle.  Well the radio is out; the only stations you can pick up in Somewhere, OK, are a single country station, and 1,000 different flavors of static.  So I turned to my iPhone's podcast app, and looked at the discovery/popular tab, and that's when I met the Chairborne Commandos.
Chairborne Commandos: The BLUF (Bottom Line Up Front)
Chairborne Commandos is an authentic, military talk and analysis weeklyish podcast that anyone with a military appetite will appreciate and enjoy; as a Marine I can say with reasonable confidence that this is a radio show that even civilians will enjoy.  Acronyms are kept to a minimum (though I do laugh when I hear the rare military jargon-drop), and the best part is that the commentary is surprisingly objective; you won't hear favoritism/fanboyism on this show, which adds another layer of professionalism and authenticity to the show.  That's probably a major reason behind its success.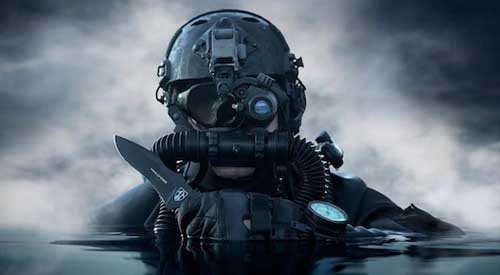 You Know A Podcast Is Good When:
You find yourself talking out loud and wanting to call in, only to realize that you're listening to a recording podcast, and not live radio.  I'm honest enough to admit it; you know you've done it.  I'd compare the reaction to a good book or film; if you find yourself hating a certain character or decision, then the book or film is probably a great one.
Did I Mention There's Free Stuff?
Well now I have.  All you have to do is submit your email address to gain access to the Commandos' email newsletter; they'll route tactical contest email links through that, so it would behoove you join.  I believe you can up your chances of taking home the loot by referring your buddies; how easy is that?  The last two prizes have been Gerbers and sweet shave kits, both of which I would welcome with a smile.
Chairborne Commandos is a great podcast, and the best military podcast out there.  Swing over to iTunes to download the library today, and don't forget to check out their official website for everything Chairborne.
MTF as always.