The chief executive office is a position that gets a lot of flak, especially from those who haven't really ventured into, or truly understand how the world of business, or leadership for that matter, really works.  They either choose not to, or simply can't comprehend just how much responsibility and pressure sits on the CEO's shoulders, and how much like every other leadership position, the work day doesn't end when you go home for dinner.  You live and breathe the position, and you are always under the gun – internally, and externally as well.  Earlier today, gaming giant Electronic Arts, known for some of the biggest gaming franchises known to man, and also known for being one of the "worst gaming companies" (just Google it; that's a different post in itself), just internally promoted Andrew Wilson to the head seat, and carry the EA flag into the future, and to new heights.  So just who is this guy, and probably the biggest question most gamers have on their minds: how much does this dude make?  Hit the link below for our full unclassified report.
Andrew Wilson: The Quick Biography
Like most chief executive's career paths, you really have to just about destroy every single job posting you get, proving to those above you that you not only can handle the added responsibility, but exceed expectations and really be "the game-changer".  You also need to have a great team around you at each level, but then again, the leader is responsible for building his/her teams; just think about it like a basketball coach, say John Calipari or Rick Pitino.  So what has Andrew Wilson done, other than probably a crap load?  Why don't we start with a pretty awesome Fast Company commendation from just over a year ago in 2012, when Mr. Wilson was ranked as the 40th most creative person in business in the world.  Yeah, I'd say that's pretty unbelievable; wouldn't you?  Since joining EA in 2000, Andrew has led all of EA Sports' FIFA soccer games, and held leadership posts in business development (aka sales), production, licensing, and marketing.  Yeah, so the resume speaks for itself.  Oh, and if you're questioning the dude's work ethic, just check out what his official EA biography states he likes to do on the side in his free time: run triathlons.  No big deal.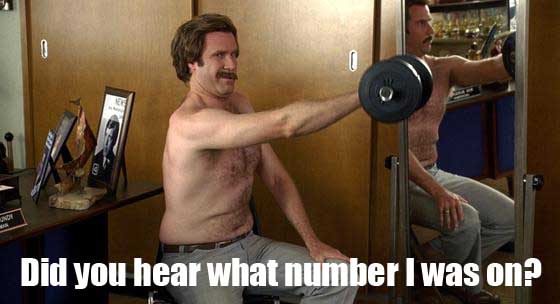 Alright, Enough Resume Crap; What's His Salary?
The cool thing for all of us on the outside is that in publicly traded companies, like Electronic Arts, the c-level salaries are public knowledge so that its shareholders can hold the leadership accountable.  As of right now, we have a regulatory filing on hand that states Mr. Wilson is pulling in a $800,000 base salary, with a standard performance bonus that can total 150% of his quarterly base pay (translation: he can pull in as much as $300,000 in bonuses EACH quarter), as well as probably a metric crap-load of stock options.  Plus he probably has the best office!  All in all, with expected bonuses each quarter and stock options included, Andrew is probably looking at $3-6,000,000 worth every year; not too shabby, eh?
How About Our Slightly Qualified Qualifications?
So who are we to talk about business, leadership, and awesome Ron Burgundy quotes?  Well, I did stay at a Holiday Inn last night, so that is part of it (actually it was only a Residence Inn), but I do have a resume that slightly qualifies me to talk on the subject: I was a Marine Corps officer, rising as high as captain, have run two Internet ventures, and am currently chest-deep into an MBA program.  I love chatting about this stuff – Anchorman quotes aren't a bad time either – so drop us a line below, and let us know your thoughts, or how you would make a better CEO (a new Mass Effect every 3 months would garner my vote!).
More business analysis to follow!