The Dark Souls series is one of the best from this or last generation, and I don't think anyone would be angry if went on a never ending Final Fantasy style release path with more sequels than you can possibly keep track of. Oh, but speaking of angry, yes, you will get angry playing Dark Souls 2; I'm probably the calmest, most patient person you'll ever meet, but when you have to start all the way over from the freaking beginning after yet another stupid little mistake, controllers will break and profanities will be articulately shouted.  But the reward for success?  That's what makes this series so legendary, and what makes the review below so hilarious for those who have endured the highs and many, many lows!
Funny, But True Dark Souls 2 Review
If you've been flying the SQ Nation flag for a few months now, you're more than likely beginning to notice a theme with some of these game reviews.  If you're scratching your head, let me point you in the direction of the recent Watch Dogs review, as well as a review of the classic Duke Nukem Forever review from back in May – both should not be missed!  Sarcasm just makes the world a better place, doesn't it?  Well without further adieu, here is the hilariously funny, but oh so true review for Dark Souls 2, courtesy of user "Pencil", who's reviewing career is off to a stellar start!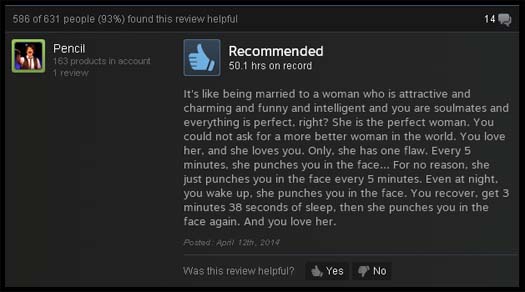 If you've played Demon's Souls or either of the Dark Souls titles you know you enjoyed the review above – if you're one of the delusional gamers out there who haven't given the series a try yet, you need to, as in right now.  If you're craving more funny pics this Monday morning, then head on over to our official funny pics site tag as we're always adding more.  After a stellar summer vacation, Tebo and I are back to full strength here at SQ, so standby for tons more new content.  Have an awesome Monday at Initech, and say hello to Lumbergh for me!