Call me Master of the Obvious here, but the criminal rung of society for the most part isn't comprised of the smartest individuals.  As a Houston resident now for almost two years, I have seen some insane stories and videos courtesy of the local news channels, but this fight video which shows a former MMA champion-turned gas station attendant absolutely annihilating a pair of "maybe-we-should-have-made-sure-the-gas-station-clerk-wasn't-an-MMA-fighter-before-robbing-his-buddy" robbers just might take the cake.  You're going to want to watch this video – trust me!
Ex-MMA Champion Turned Gas Station Clerk Destroys Robbers in Epic Fight Video
So was that not awesome or what?  I guarantee that is the last time anyone tries to rob that Fuel Depot on the south side of Houston – or at the very least I would think future robbers would try and make sure Mayura Dissanyake is on his day off before they try and steal some Doritos.  Speaking of Doritos, with this epic fight video having already gone viral this lovely Monday morning, there have been a ton of hilarious comments flaoting around the Interweb, but none better than a Mr. Brent Rose over at Jalopnik.  While I didn't even pick up on this side joke, the video screenshot says it all: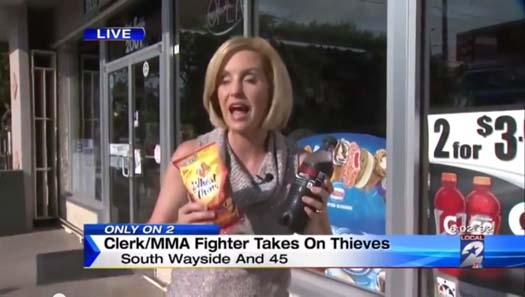 The award winning comment: "I like how she holds up a soda and a snack to illustrate sodas and snacks as she is saying "sodas and snacks." Just in case we don't know what sodas and snacks are." Mr. Rose, you're more than welcome over here at SQ Nation.
If you're craving more high quality entertainment before you begrudgingly head into work this morning, we've got you covered with tons more fight videos, funny videos and countless other content tags a few inches to the right in our SQ tag cloud.  Happy Monday!