When it comes to picking duty stations in the Marine Corps, it's pretty much a crap shoot.  You list what your preferences are, but in the end it all comes down to what the Marine Corps needs, and not what you want.  Somehow, I was able to land Marine Corps Base Hawaii as my duty station, and during my time there, when not deployed, I discovered quite possibly the greatest Irish bar in America: Murphy's Bar and Grill, located in the heart of Chinatown, in Honolulu.  What's an Irish bar doing in Chinatown, you ask?  On Oahu, Chinatown is the hip place for 20 and 30-somethings to live and congregate; Waikiki is all tourists, so us "locals" or mainland transplants like to keep to our own, and that awesome secret is Chinatown.  Murphy's sits on the south end of the electric district, and it has everything that Irishman in you desires: a great staff that will hook you up if you treat them well, a stellar array of rare, craft beers on draft, easily the best social atmosphere in Chinatown, and arguably most important, the best pint of Guinness on the island, if not America.  Yes, I just went that far.
Bars We Like: Murphy's Bar and Grill, Honolulu, HI    
Let's start with the beer, and since I already went there, let me state it again: Murphy's pours the best pint of Guinness on Oahu, period.  There is no comparison.  The best pint of Guinness in America comment? That can be disputed, and maybe it just tastes better because you're in the middle of the Pacific ocean, but it ranks up there.  Heck, the fact that they have to ship the kegs across the damn Pacific for two weeks before they're tapped should garner this fine establishment extra points!  From a Guinness emphatic, if you ever find yourself heading to Oahu for a vacation with family or friends, please do yourself a favor and plan at least an afternoon trip to Murphy's in Chinatown.  You will not regret it.  Heck, you probably won't want to go back to Waikiki.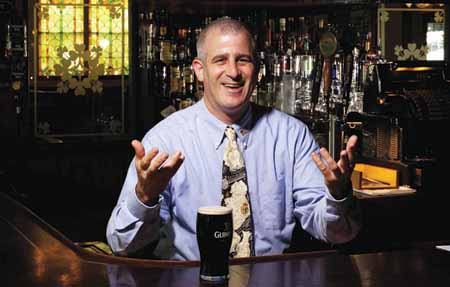 Authentic Irish Beer Tastes Better With Authentic Irish Food
If you're going to take your tastebuds with you on vacation and experience the best Guinness on Oahu, why not take it a step further and stay for lunch or dinner?  Outside of the usual Irish fare, Murphy's also features some outstanding dishes that really make this place legendary.  My best recommendation is the Turkey and Jalapeno Sandwich, at a meager $12.  This mean sandwich doesn't come on Wonder bread, and it's not deli meat; I'm talking thick, house-roasted turkey breast with fresh jalapenos and pepper jack cheese, stacked (seriously, it's a tall sandwich) between two thick slices of sourdough bread.  Like the brew, you won't regret it.
It Also Tastes Better with a Stellar Staff & Atmosphere 
As I mentioned in my opener, the staff behind Murhpy's greatness will flat out take care of you.  There's a reason why Murphy's has not only survived, but flourished since opening its green doors in 1987: the staff is composed of rock stars.  They know how to take care of their customers, they treat them like long-lost pals, and wow do they know their beer.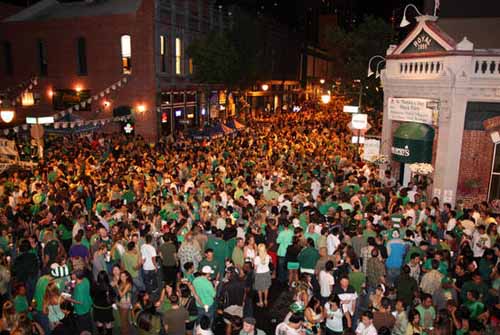 The atmosphere is pretty darn good as well, and Murphy's has a setting for everyone.  If you're looking for the packed bar nightlife, then just stop in on a Saturday night.  Looking to catch the next Manchester United match at 6:00am, Hawaii-time?  Ten bucks says Murphy's will be open, as they regularly open up, and draw well for major, and minor soccer/futbol games.  Looking for a family dinner event as an excuse to experience all that is the Murphy's Guinness?  Their grill has a family atmosphere, and is completely separated from the main bar.  How about a few care-free games of shuffleboard with some buddies?  Yup, they have that too.  The best part?  Guinness is always on tap, and it always hits the spot.
Murphy's Bar and Grill is located in the south end of Honolulu's Chinatown  or more specifically, 2 Merchant Street, in Honolulu.  If you are heading to Oahu and you don't have a Murphy's stop planned, you're wrong, and somewhere, an Irishman is crying.