With Memorial Day less than 72 hours away – I can smell those burgers and brats now – I couldn't think of a better time to post arguably one of the best Afghanistan combat footage videos I have encountered to this date.  You have most likely heard the name Sgt Dakota Meyer before: he was awarded the Medal of Honor for his absolutely incredibly heroic actions during the Battle of Ganjgal, when his entire Marine Corps/US Army/Afghan National Army Embedded Training Team (ETT) came under heavy ambush.  But have you heard the name Captain William Swenson before?  Capt Swenson was a critical member and leader of that ETT, and is the second living Medal of Honor recipient from that same intense Battle in Eastern Afghanistan.  Believe it or not folks, this video is actual combat footage from that harrowing night – a firefight in which 5 US servicemembers and 8 Afghan soldiers lost their lives – and will help remind all of us that every Memorial Day – first and foremost – is a time to remember those who have made the ultimate sacrifice. More commentary after the link below – as well as a map diagram of the firefight, and links to both Medal of Honor citations.
Actual Combat Footage of MoH Winner Capt Swenson in Afghanistan
Was that not the most humbling video you've seen in months?  To say that Captain Swenson displayed an incredible level of combat leadership is an understatement of epic proportions, and this video is just blatant proof of how deserving this gentleman was of the Medal of Honor.  If you want to really be blown away – I know it's hard to top that video, but there is something that will come close – than read his official Medal of Honor award citation.  For those of our civilian SQ readers out there, the citation is essentially the one page award "summary" of what that person did, and why he/she is deserving of the award.  The citation – like any Medal of Honor citation – will absolutely floor you, and if you really want to throw a Memorial Day party that will leave a mark on every single one of your friends and family members, then tell everyone to shut their pie holes for two minutes, and read Captain Swenson's citation.  I guarantee no one will ever forget your Memorial Day BBQ from 2014.  If you want to get everyone extra motivated, then throw in Sgt Dakota Meyer's Medal of Honor award citation!
If you're interested in more about the Battle of Ganjgal, there is a truckload of information on the Internets, not to mention plenty of shows, interviews, books and documentaries about it just about anywhere you could look.  I did come across a very cool battle map of the firefight though – you can check that out below: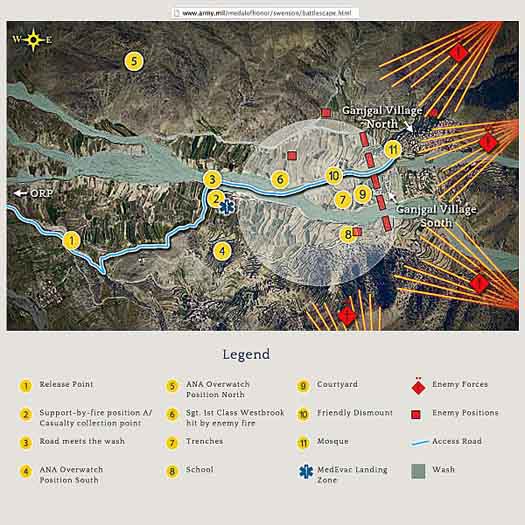 We will have tons more great content coming to you all through this Memorial Day weekend, so stay tuned for more!  If you can't wait until then, don't forget to look about an inch to your right, because our ginormous tag cloud will keep you entertained for a good two to three years!  Have a great Memorial Day weekend, and tell us below in the comments how your Medal of Honor award citations went over at your BBQ's this weekend!
/photo courtesy of Wikipedia Commons