Trojan condoms are easily the most recognized, and according to CompaniesandMarkets Trojan dominates [US condom market share] with 69% of sales. (Source) No, you immature bastards, that is the actual, estimated market share percentage – calm yourselves.  But could they do any better – after all, there is still 31% of the market potentially available for the taking from the likes of Durex, the next biggest player?  Of course they could, and that's likely what every Trojan senior executive has and should have been pushing for, but have they ever done an objective analysis on their own brand name – Trojan Condoms?  The good news is that someone already has – hit the link below for the full brand name analysis (and a laugh).
Trojan Condoms = Brand Name Fail
You definitely do not have to be a history major to know your ancient European history, as just about every world history class in high school teaches you the story of the Trojan War, and who hasn't seen the movie Troy (one of my favs)?  That being said, I find it hilarious that it took over 90 years (Trojan Condoms originated in 1920 – source) to notice this just epic, epic brand name fail: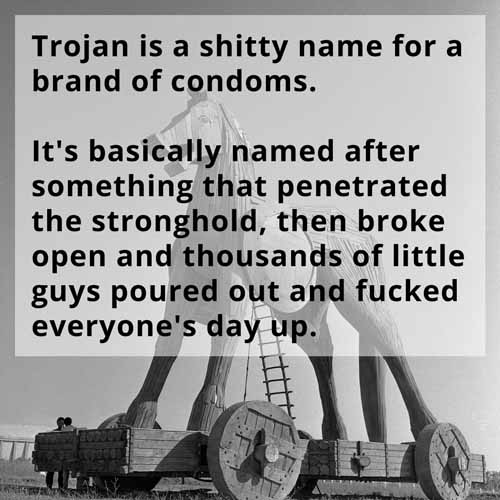 Is that not hilarious?  I would have to think this picture or meme is hanging on a few of Trojan's conference rooms (maybe the break room?), but who knows.  If anyone out there has worked for the prestigious condom maker, please share your intel below! I'd love to know!
More business analysis as it comes – stay classy and have a good Monday!