The knife hands nearly came out at my laptop screen – okay, that was a joke, but seriously what in the world is this guy doing?  If you can't tell from the disturbing picture above (all three photos below after the link), we have what appears to be a Marine/former Marine that has apparently hung himself (not around his neck – he's just fine) by his dress blues in the heart of Washington D.C. in some form of religious and/or other protest.  What you do not see in these head-shaking images is every 1stSgt and SgtMaj in the world – in or out of CONUS – bursting at least three or veins as they try not to kill the first person that walks into their field of vision; heck, how can any Marine – former or active – not feel a little irked by these pictures?  I know I am, but I'll hold the rest of my thoughts for after the jump.
Marine Hangs on a Cross in Washington DC
If you need to, go ahead and take a few minutes to calm down before you look at these pictures again, because I have two more angles below.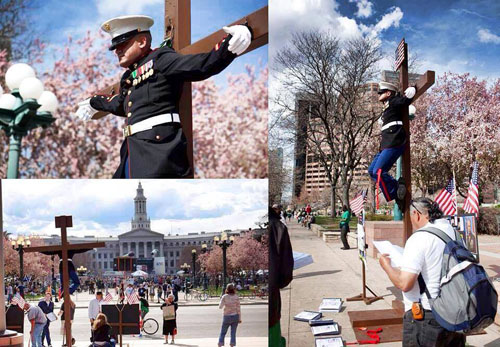 So after really looking at these crazy photos, and thinking about what likely went on here, I would have to guess that this guy is likely a former Marine who's no longer active duty that got busted down – way down, and even after nabbing a Navy & Marine Corps Commendation Medal (do I see a "V" device as well or am I seeing things?) – for who knows what.
Update @ 9:24pm (excuse me, 21:24; I'll haze myself after this post) via my good friends over at Reddit.com/r/USMC: So it sounds like the story via Reddit user midnightblade is (via TerminalLance) that:
"He was trying to start a business/charity selling beer coozies. At the same time, he was supposed to be on recruiting duty (as a sergeant), then after a year decided he couldn't do it any more and told his SNCOIC he didn't want to do it any more. They took that as him quitting and court-martialled him, kicked him out of the Corps as a Pvt. During the court-martial he started sending all the information about the trial to some news contacts because he thought the USMC would do him dirty. This thing with him on the cross is supposed to raise awareness for his beer coozie business as well as call attention to his belief that the USMC crucified him unjustly. Basically, he got what he was asking for and now he's crying about it." (Source: Reddit)
Well if that story holds then I guess I wasn't too far off; the Reddit thread linked above also found another photo, which probably is this guy's back yard as he was getting prepped for DC (rehearsals make you money?):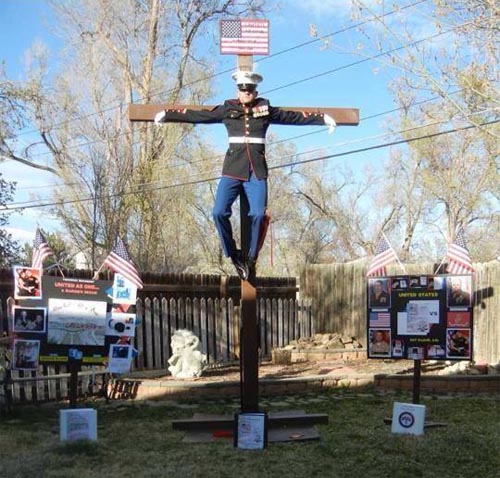 If anyone is in the know on this story, please drop us a line below – we'll keep a pulse on Reddit to see what else we can dig up.