Listen up Marines: sit, kneel, bend, or do whatever you have to do to keep yourselves awake for this brief, because it pertains to that rampant boredom naturally overcomes every single one of you after hours upon hours of standing by to stand by.  Just recently I came across a new iOS game developer – a former Marine – who makes iPhone games specifically for us.  The game development company's name is SgtBit, and the game I present to SQ Company, 1st Civ Div is KnifeHand: an addicting, but simple side scrolling platform runner in which you run across mud rooftops in Afghanistanimationland in nothing but skivvies, police calling as much as you can along the way while avoiding NJP's and some guy named Jody (creator's name, perhaps?).  Can you beat my high score? Probably not; more details and the official SQ KnifeHand High Score challenge below!
KnifeHand iOS Game High Score Marine Challenge
As I mentioned before, KnifeHand is extremely simple – and free, did I mention that? – but also surprisingly addicting.  While this game won't offer too many hours in the replay value department, it does look and feel great, and I will always go out of my way to support a fellow Marine and his/her new venture.  Everyone here at SQ is looking forward to the next titles to pour out of SgtBit, and that means you should too!  Alright, now on to the high score challenge: my score is screenshotted below – can you top that?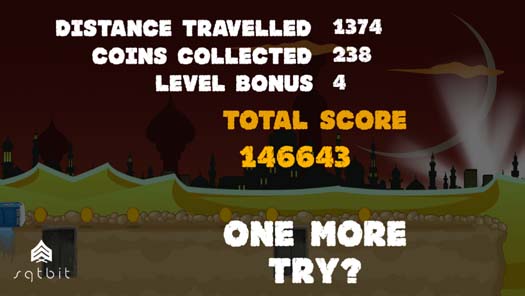 Post your high scores in the comments below, although you probably won't even come close to mine so why even bother?  If you're looking for more iOS games, then we've got you covered here at SQ: just hit up our iOS Games We Like tag, and load up your iPhone today!  Standby for more here at SQ, and thanks to SgtBit for a very cool title!