"Rip It?  What are you talking about – it's an energy drink?"  Yes, it's an energy drink, and that's usually the confused response I receive whenever I ask one of my civilian friends if they've ever had one.  You see, it's extremely rare to find one of these delicious sugar free energy drinks out in the American wild – and by wild I mean at truck stops, gas stations or convenience marts.  On the other hand, where you will find unlimited amounts of Rip Its and all their caffeinated glory is at American combat military outposts throughout Afghanistan.  While I had heard about the awesomeness that is the Rip It energy drink (I love the sugar free version) during our battalion's deployment work-up, I wasn't able to taste one until I touched down at FOB Geronimo in Central Helmand Province, Afghanistan, sometime in 2010.  All I can say is those tiny little cans (they have tall boys as well) made a big impression on my caffeine-seeking soul, and if you can find one here in the States, it will be well worth your journey. (Rip It Treasure Map after the link!)
Where Can I Find This Mythical Rip It?
As I mentioned above, these Rip It liquid delicacies can be very hard to come by across the country, and this is coming from someone that travels just about on a weekly basis for work.  While I have surely not been everywhere, I have only come across two gas stations that actually sold Rip It energy drinks; my goal with this article is to get feedback from the rest of SQ Nation so that we can map out even more places where you can grab a Rip It when you're on your next road trip.  So without further adieu, let's get this Rip It treasure map started with my first two.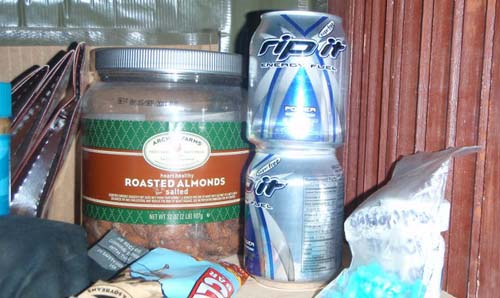 Rip It Location #1: Holland, MI
After I got out of the Marine Corps in early 2012 (above pic taken from my hooch in AFG), I took an awesome job up in beautiful Holland, MI, which has an amazing beach park on Lake Michigan that just can't be beat (if you've never been to the Michigan side of Lake Michigan, you need to – it is incredible).  If you ever find yourself in the Holland area, and are in a caffeine fix, then head to the Meijer Gas Station off 16th street, because they sell Rip Its in tall boy form!  Here's the full address for your GPS/Siri: 746 E. 16th Street, Holland, MI.  This was last confirmed in November of 2012, so while there's a chance they may not be on the shelves anymore, I would bet they still are.  What is also awesome about these tall boy Rip Its: they have the sugar free variant, and they were selling for just 99 cents (same size Red Bull would cost you like $3-4 bucks!)
Rip It Location #2: Longview, TX
After I took my current position which bases me out of Houston, TX, I am on the road a ton, and Longview, TX, just happens to be one of my frequent destinations.  Just 3.5 hours NE of Houston, and about 2 hours E of Dallas off I-40, Longview is a medium sized town that contains the prize that we're all searching for: the Rip It.  The good news is that you likely won't have to go far off your route to obtain your caffeinated prize, as this Rip It location is just a few feet off of I-20; the exact location for your GPS is 3302-3330 S Eastman Rd, Longview, TX, which actually is a huge Shell gas station/Sonic/BBQ joint.  If you walk into the right side of the building in the convenience mart side of the joint you'll find just about every Rip It flavor imaginable, but sadly, as of yesterday, April 17th, 2014, they no longer sell the sugar free variant.  Maybe they were sold out, but when I left their yesterday it appeared that they just stopped selling them.  Regardless, if you find yourself in NE Texas, Rip Its are extremely close by!
Throughout all my travels I have only come across two Rip It locations, so SQ Nation I need your help.  Let's map out every confirmed Rip It location across America, so that all of our future road trips – and the road trips of our children – will be that much more enjoyable.  Drop us your confirmations in the comments below, and have a great rest of your Friday!
/Photo Credits:
Marine in front of Osprey in AFG image courtesy of http://imgur.com/5it9Ejt, and Keggers from Redditt (Semper Fi brother!).