Although I only lived in Grand Rapids, MI, for about 8 months, Stella's Lounge made quite the impression on my stomach and liver.  Located in the Heartside district of downtown Grand Rapids, Stella's Lounge offers a huge variety of old school video arcade games, an awesome variety of local, Michigander-craft beers, and according to GQ Magazine's July 2012 issue, "the best burger in the world".  Stella's for me originally was the local, convenient bar, as I lived literally across the street from the entrance on Commerce Ave; however, I probably didn't go there for a good month or two after moving in because of another stellar, Grand Rapids craft beer bar called "HopCat".  It was at that awesome bar that I realized that HopCat owner also owned Stella's, so I figured enough was enough; let's check this place out.  When I walked in on that Saturday afternoon last Summer, I was extremely surprised; hit the link for more on this awesome drink, eat, and playery!
Stella's Lounge and Old School Video Games
Stella's has two entrances.  The one in the photo above is the East entrance; since I lived on Commerce Ave, I walked in through the West entrance, and I swore I had entered Flynn's Arcade in TRON, because I was surrounded by old school arcade video games.  As a proud gamer, let's just say I was hooked.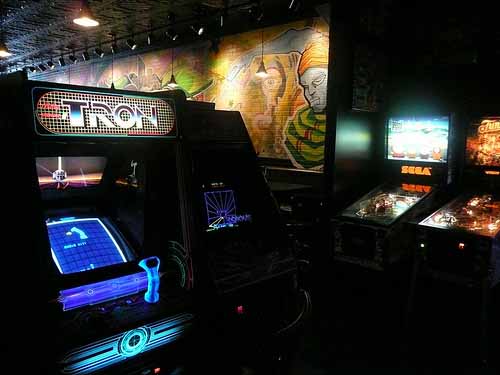 Did I Mention the Award Winning Beer & Food?
Before I could change out for a slew of quarters, I had to grab a cold one at the bar.  That's when I started seeing GQ magazines in frames up on the walls, enough that it made it me stop to look; in GQ's July 2012 issue, Stella's burger was named "best in the world".  Could I have picked a more bad ass place to live than Commerce street in Grand Rapids?  Not only am I surrounded by some of the best craft breweries in the state, but also have an array of mint-condition old school arcade games and the best rated burger in the world steps from my apartment?  So my run to the bar for brew naturally turns into a sit down affair as I order, and absolutely devour, the infamous Stella's Lounge, jalepeno-infused cheeseburger and crack fries.  Holy cow – I don't know if its the best burger I've ever had, but it is honestly up there.  Craft draft beer + jalapeno-infused, award winning cheeseburger + video games = man heaven.
Stella's Lounge is a must-stop if you ever find yourself heading north on I-196 in western Michigan; it's sister bar/brewery, HopCat, is also a must-stop-and-drink-twelve-beers as well, considering it's only about twelve steps away.  If you live in Chicago, GR makes for a great weekend road-trip with the Wolf Pack, as the trip is only about 3.5 hours, and there are plenty of cheap hotel choices right downtown near all of the top nightlife spots in Heartside, including Stella's.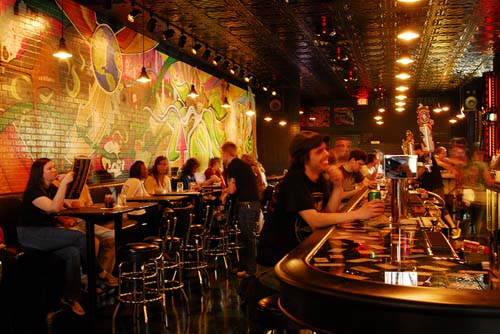 If you've had the pleasure of enjoying a Stella-infused burger, what's your favorite?  If you say anything other than the jalapeno-infused burger, you're wrong.  Seriously, don't even go there.
More great bars to follow!