When I got out of the Marine Corps in early 2012, only to transition from the beaches of Hawaii to the black ice covered roads of Chicago-land, I hopped on the local Metra train to take me downtown.  While I have a ton of friends downtown that I wanted to meet up with, it was a Monday morning, and I had to catch another train – this time Amtrak – to make the trek down to St. Louis to pick up my Jeep which had finally arrived from Oahu.  Six hours later – and only for a whopping $12 fare – I woke up in St. Louis, and hailed the first cab I could find.  The cab driver was a little more talkative than usual, and it didn't take long for him to figure out I was in the military – while he did guess correctly that I was a Marine, he failed the civilian test when he asked, "we still have troops in Afghanistan?"  While I sadly have encountered a few other people that have uttered that same phrase over the last two and a half years, I have been pleasantly surprised as to how many civilians actually are familiar with Sangin.  You see, today marked a pretty historic day: earlier this morning the Marine Corps Times reported that the last Marines had finally departed one of the most dangerous places in all of Afghanistan – Sangin District.
Marines End Combat Operations in Sangin, Afghanistan
In the fall of 2010, when I was home on pre-deployment leave in Chicago, Sangin literally started making headlines for both good and bad reasons.  While my unit was slated to drop into a Central Helmand Province district in a matter of days, Sangin – which was a district in Northern Helmand Province – was turning into an absolute firestorm up north.  While the district had been under British "control" for quite some time, it wasn't until September of 2010 in which 3/7, or Third Battalion, Seventh Marines (out of 29 Palms), came in and officially took over. While 3/7 absolutely grabbed the Taliban presence by the throat, Sangin will most likely be forever remembered by the efforts of 3/5, or "Dark Horse", as over the next seven months of their deployment they would lose 25 Marines from the battalion, and more than 170 more Marines wounded in action.
To the Marine Corps, and undoubtedly even more so to the long list of Marine infantry battalions that have rotated in and out of that once-violent district, Sangin served as arguably the biggest fight in our slice of Operation Enduring Freedom.  During its peak in late 2010 through 2011 – when I was just a few districts south along the beautiful Helmand River – many news outlets, as well as Marines, compared it to Fallujah – although I am not here to argue that.  I am here to simply remind the world – or the few hundred of you that read SQ now on a daily basis – that this should not be forgotton.  The men who fought, died, and WON in Sangin – where the British could not succeed – should never be forgotten.  They should be honored.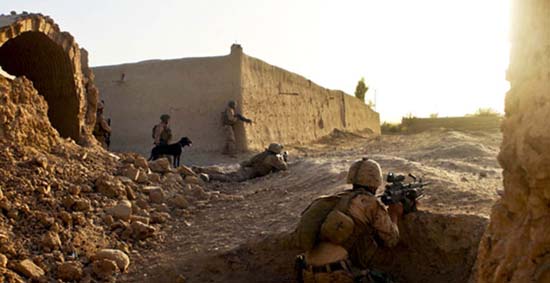 Today is a historic day, as the Marine Corps finally lowered its colors and passed full combat responsibility in Sangin to the Afghan National Army.  While I don't expect American civilians to remember May 5th, 2014, I do expect them to remember the incredible sacrifice the men of Fifth, Seventh, Eighth, Ninth Marines – not to forget 1st, 2nd and 3rd Recon, and any other combat/support units I am missing – did to to quell what will likely go down as one of the most dangerous places in Afghanistan. Never forget.
/Photo credit: Marines on patrol in green field: Photo by Cpl. Ned Johnson/Marine Corps
/Photo credit: Marines halted on patrol/op: U.S. Marine Corps photo by Lance Cpl. James B. Novle