Curb Your Enthusiasm is one of my all-time favorite comedies.  I was a huge fan of Seinfeld growing up, so Curb was a natural fit; it also took me a few seasons until I discovered that George Costanza's character on Seinfeld is actually based on Larry's actual life, which made Curb even funnier since George is one of the best TV characters of all-time, and that's not up for debate.  With eight incredibly hilarious seasons already in the Curb Your Enthusiasm books, the door is still tentatively open at HBO for Larry to do a ninth, and as a huge fan all I can do is hope.  In the meantime, at least we have reruns and thousands of hilarious Curb Your Enthusiasm videos like the one above – when Larry meets the flamoyant Greg – to keep us entertained!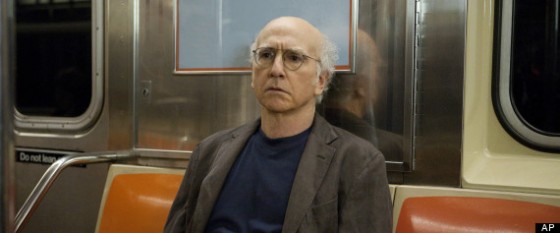 Posted like a champ in Laugh
Although they're separated by generations, they arguably both fall into the same weight class.  Larry David, the king of comedy, and easily the biggest asshole on television (and that is a compliment!), vs the YouTube-original, everyone loves to hate him until they get caught blasting his music in traffic Justin Bieber; so who ya got?  I'd have to go with Larry David; he's got a huge height advantage, and I'll take his New York City youth over anything north of border (South Park: The Movie: "They're not even a real country, anyway!")  So when is the showdown, you ask?  Well, I lied.  This is just an awesome funny pic that everyone will get a kick out of, unless you're in the 10-14 year old female group who owns every piece of Bieber gear on earth, then it'd probably be best to move along; you probably don't even know who Larry David is, anyway.  Enough talk; hit the link below for the awesomeness.
Where are my Curb Your Enthusiasm fans at?  I have experienced every single episode of this hysterical HBO series, and I am hoping that Larry David comes back for a ninth (and more) season.  Originally known for being the creator of "Seinfeld", Larry David brings his George Costanza-type humor (you knew George's character was based off Larry in real life, right?) to the streets of Los Angeles, where his extremely blunt and sarcastic personality seem to always get himself in trouble.  The guy is a flat-out comical genius, and if you haven't seen this show, you're wrong.