I am pretty damn picky when it comes to iPhone/iOS games and apps; Mutant Mudds was the last game that really got me hooked, and I still find myself running back through those 3D levels in a vain attempt to reach 100% completion (get back to me in a few years).  Although I have a track record of downloading many different iOS games on my iPhone 5, the majority get deleted either right away, or within a day or two at the latest.  Ridiculous Fishing is one of those rare, insanely addicting iOS games that has made its way onto my iPhone, and I can't stop playing it.  And for only $2.99 in the App Store, this game is absolutely well worth it.  More details on why we like Ridiculous Fishing after the link.
Best Fishing Game Since Ocarina of Time
Fishing games have historically sucked.  The only, and I mean only, worthy fishing game wasn't even a standalone title, but rather a side addiction in arguably the greatest game ever created: The Legend of Zelda: Ocarina of Time for the legendary Nintendo 64.  The fishing pond in Ocarina was so good it could have been a standalone product; everything about it felt real, and it really captured the excitement that fishing brings when you land that monster fish.  Ridiculous Fishing brings that same excitement back; all you need is an iPhone or iPad (and $2.99).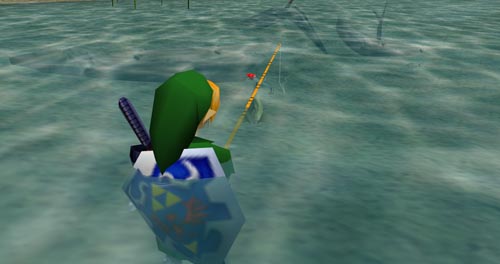 Ridiculous Fishing: 3 Reasons Why We Like It
1. It's deep.
Pun intended?  Yes, but hear (read?) me out.  Ridiculous Fishing is like an RPG; you will always find yourself upgrading your fishing gear, lures, boat, and guns, as you maddeningly attempt to find and catch every fish in the almanac.  As you snag fish from the bottom of the ocean (and yes, it's deep), your fisherman will whip the line into the air above your boat, and quickly switch over to whatever weapon of mass destruction you have equipped, as shooting the fish before they land back in the water is the only way to gain cash, and therefore your upgrades.  The amount of customization in this game is awesome, and adds an impressive depth to a stellar fishing game that at its core, could still sell like hot cakes and be a great game.
2. It feels like you're fishing.
This is something that is hard to explain.  Ridiculous Fishing employs your iPhone's gyroscope extremely well, forcing you as the fisherman to tilt your phone rapidly left and right so that your lure can go as deep as possible; that motion alone gives this game a realism that few fishing video games has ever accomplished.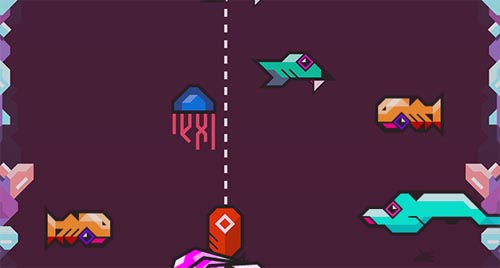 3. It's EXCITING.
Fishing in real life is awesome because it's relaxing, and it's a great chance to spend time with friends and family, drink a ton of cold beer, and hopefully, catch some monster fish that you can hang on your wall, or better yet, eat.  That moment when you're sitting on the boat with one hand on the reel, and the other gripping a LaBatt Blue while you're telling old college stories, when all of a sudden Moby Dick himself latches down on your Johnson's Spoon and takes off faster than Paul Walker in Fast and the Furious; that insane rush of adrenaline that you get as you simultaneously try and reel this ginormous fish in, while telling your buddy how you swear it's at least a 25lb'er, is what fishing is all about, and Ridiculous Fishing captures it – at least a part of it.  You see, this game is addicting; yes, I already said that, but let me explain.  This is a game where you will always tell yourself, "alright, just one more cast", only to look at the clock and realize that you missed your bus stop an hour ago.  The true excitement comes on that "last cast" when you should be leaving for work, only to catch a glimpse of that rare motherf*cking fish that has evaded you for days, only to barely miss your lure and vanish for who knows how long.  Agony and frustration set in, yet you find yourself smiling and determined to come back again.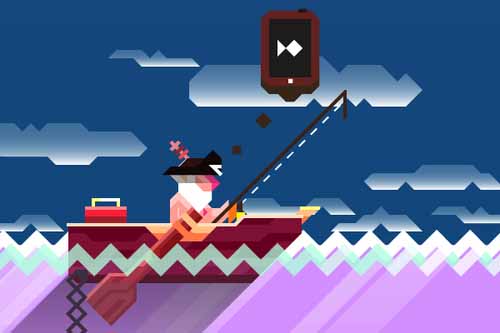 Ridiculous Fishing is worth the three bucks.  It's hard to come across really good, and creative iOS games as most of them are junk; Ridiculous Fishing is original, exciting, and visually awesome, yet simple to play.  Pick this game up today!
What did you think of Ridiculous Fishing?  Leave your thoughts below!