Posted like a champ in Play
Many game publishers would be thrilled after selling 2.7 million copies of their latest title in a month, but Blizzard is not your average video game publisher.  In their latest press release, Blizzard announced some impressive week one sales for their first Diablo III expansion pack, Reaper of Souls, with sales topping an incredible 2.7 million units.  As a proud owner of this excellent expansion pack myself, I couldn't be happier, and I would argue that it is well-worth the somewhat steep asking price of $40.  That being said, let's put on our business hats and see what kind of week one revenue the D3 division is staring at!  Hit the link below for the details!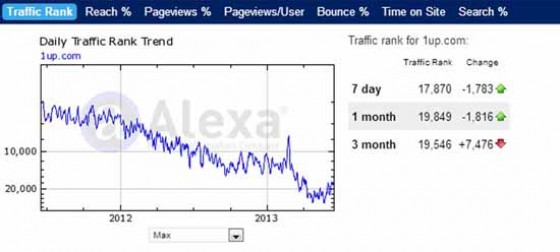 All good things must come to an end.  We heard it first from our parents, and we've likely all experienced it in one way or another through our personal and/or professional lives as we've grown up and experienced the real world.  Although my primary professional career currently resides in the oil and gas industry, with the previous five years consisting of a four year tour in the Marine Corps, and a quick 7-month stop in wind energy manufacturing, my side business is this: the web.  I started building and running websites in the mid-90's as a freshman in high school, and have been obsessed ever since.  Outside of the Marine Corps, which I absolutely loved, but voluntarily walked away from, the web is my true passion.  It has never felt like work to me, and I see myself building websites and running web ventures until I'm buried six feet underground.  Late last night however, I stopped in at 1Up.com, which is one of the largest video game online publications around, only to notice that no new content had been posted since March.  Then I came across this bomb of a post: a "this is it/farewell to 1UP" letter from the now-former editor in chief, Jeremy Parish.  Seeing this news, even four months late (the closure announcement was published in late Feb), really hit home: not because I was a fan of 1UP per say, but because as an online business owner, I experienced that exact, painful process in the Summer of 2007.
Posted like a champ in Play
In just under two weeks, the Darksiders video game brand may very well be back home with its original development team, who at the time programmed under the Vigil Games flag.  Crytek USA, the team's new home, is most famous for its graphically stunning, hardware maxing FPS series, Crysis, which is now 3 games deep.  Just last week Crytek USA CEO David Adams tweeted his emphatic desire to re-land the Darksiders IP: