Posted like a champ in Watch
If you thought part one was intense yesterday, wait until you experience the next ten minutes of this Afghanistan firefight through the lens of a US Army SAW gunner's high definition helmet cam – part two above raises the intensity level even higher.  Whereas the first video just showcased the soldiers fighting back from the same location, part two we get to see the platoon commander request air support, and watch as the entire platoon fights its way back to a stronger defensive position.  Awesome video – stop reading, and watch above – then hit the link below for more award winning commentary!
Posted like a champ in Watch
Now this Helmand combat video is a must-see!  As you likely have already read in my previous Marine Corps-tagged posts and videos here at SQ, I'm a former Marine who deployed to Afghanistan – or more specifically Helmand Province – as an embedded advisor with the Afghan National Army, or "ANA".  These videos really bring me back to 2010/2011 when I was there – not for the combat, as I didn't see much outside of a few IEDs and small-arms fire, but for the Helmand landscape and watching the ANA operate. You have to understand that they are not Marines, or in all honesty anything remotely close to what most Americans would consider professional soldiers; they are the pride of Afghanistan, and I will tell you that these guys can flat out fight.  Sure they have their shortcomings, but fighting – at least the unit that I worked with – is not one of them.  That being said, the 1:07 minute mark in this video made me just about choke on my coffee from laughter – more details after the jump!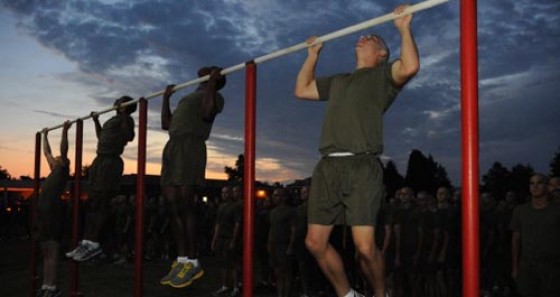 Posted like a champ in Live
You just got home from the Marine Corps recruiting office, and your ship date for boot camp is 100 days out – there's only one problem.  You can only do 3 dead hang pull ups.  Or your body fat percentage is borderline unauthorized for your height.  Or you are barely clearing 24 minutes on your 3 mile run.  Can't do 100 crunches?  You get the point.  Marine Corps recruits have a higher standard than the other service branches: they all understand that the title of Marine is earned, and never – and I mean never – given.  If you can't perform the bare minimum physical fitness – or academic, character, etc – standards, then you'll get rolled into the next class.  If you keep the poor performance going, then the Army would love to have you.  So what's the easiest way then to prepare for three months of physical and mental hell?  The answer will surprise you.