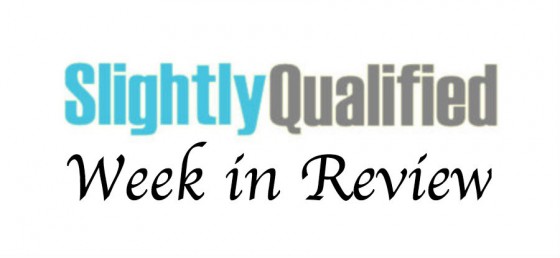 You're quickly learning that Slightly Qualified likes all things pop culture. Throw in military videos and gaming panache, and we're probably one of the more eclectic websites you've had the pleasure of viewing. We're a diversified portfolio of interweb goodness.
Raffman posted about a crossfit chap who did 106 – scratch that – zero pull ups at once. He also talks about a 500 lb bomb that almost hit the wrong soldiers. Raffman also discusses a few iOS games like Knifehand and Wayward Souls. And to keep us in touch with our memes, he collected all kinds of fun ginger and Canada pics for your perusing enjoyment. Make sure you don't miss out on Bill Murray impersonating Harry Caray either.
I had fun writing about some Pandora stations you probably should be listening to. We're still quoting from these five movies and cannot, for the life of us, stop it. Technically, these were from last week, but make sure you pick up the new Black Keys album Turn Blue and three minutes of your life is a small price for watching Eric Bana in the Deliver Us From Evil trailer.
Our friends at Linkiest are covering everything from athletes to unicorns. LFGdating remains the only dating site for the gamer/geek/nerd in you. And Clumsy Crooks catalogues all things insanely stupid about criminals and their inability to do their job well.

I like Pandora. I'm not sure if I love it, but I definitely like Pandora. It's an easy solution to a problem that plagues us almost daily: what do i want to listen to? Some of us (I for one) have long commutes; some of us walk the dog for an hour; some of us need some noise to drown out the other office lemmings. I'm batting two for three here!
For those of you Pandora virgins, it goes like this. You download the app or go the website. Create an account (takes all of ten seconds). Then put in a band or type of music that you like – and voila! – you've created a music station. Create many, create a few, create whatever you want. But if you use Pandora already, you've already littered your account with fifty stations. Here's a few you may not have.
We're all kinds of excited for the new Black Keys release. Brothers was nothing short of brilliant, and El Camino was an album for nearly every occasion. Turn Blue is shaping up to be every bit as good.
Planning a massive stateside tour early this fall, the Black Keys will be visiting cities such as Louisville on September 1o, Phily on September 20, and SQ's stomping grounds of  Chicago on September 27 at the UC. That tour date will turn the West Loop into one long party weekend.  [Click here to read on!]